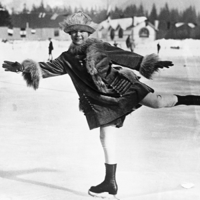 25 vintage photos of the first Winter Olympics in 1924 | Multimedia
The first Winter Olympics, then called International Winter Sports Week, were held from January 25 to February 5, 1924 in the small French town of Chamonix, France. The multi-sport event brought together 260 athletes representing 16 countries in five sports: bobsleigh, curling, ice hockey, Nordic skiing and skating. Chamonix emerged from obscurity and into the spotlight as athletes publicly showed off their skills in various competitions ranging from figure skating to cross-country skiing in front of over 10,000 spectators. In 1926, the event was retroactively reclassified as the first ever Winter Olympics.
Stacker has curated a collection of 25 vintage photos from the competition, drawing from a variety of sources to showcase groundbreaking sporting milestones and sporting visionaries. Among the nations participating in the first Winter Olympics were France, the United States, Canada, Norway, Italy, Great Britain, Poland and Yugoslavia. The United States dominated the 500 meter speed skating event, while Canada had several wins in ice hockey. The 1920s was also a time when women and young girls had more freedom to play sports, even if it was a predictable winter sport like figure skating. Photos in this collection show the excitement of the Games, stunning scenery and the surprisingly rare equipment of athletes, including ice hockey players and bobsled teams who compete without helmets. The Winter Games were held every four years thereafter, stopping in 1940 and 1944 due to World War II. The Olympic programs were changed in the 1990s, and over the years more and more sports and competitions were added, including luge, freestyle skiing and snowboarding. Keep reading to learn more about the first Winter Olympics and to see some great photos from the various events.