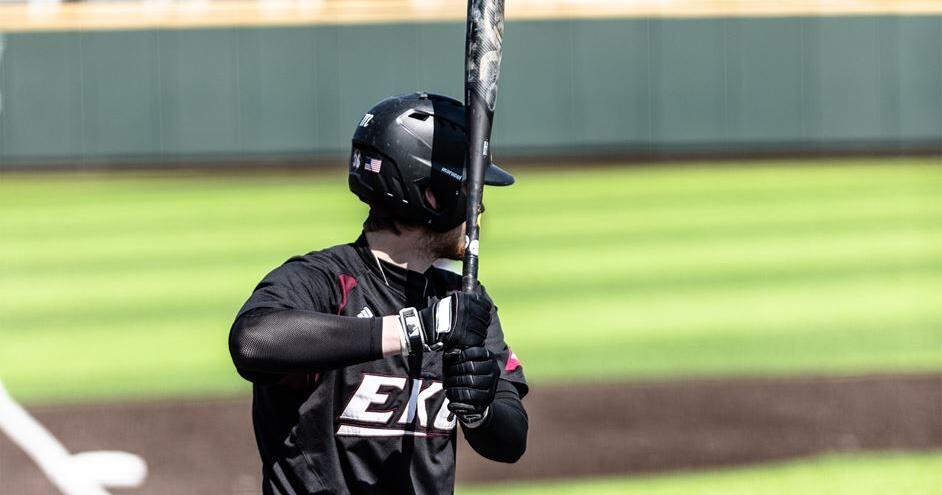 ASUN BASEBALL: Colonels rally to complete Bellarmine sweep | Multimedia
Eastern Kentucky defeated Bellarmine, 17-13, on Sunday afternoon to complete the team's first ASUN Conference Series sweep.
EKU won the first game of the series 5-3 and the second game 2-0.
Left fielder Kendal Ewell led the Colonels offense (17-8, 5-1 ASUN), going 4-for-5 with one home run, two doubles, three runs scored and a career-high five RBIs.
Bellarmine (3-20, 1-5 ASUN) scored the first point of the match leading the first as Jacob Mulcahy's fly sack scored Colin Bertsch. The Colonels responded in the second half of the inning when Ewell hit an RBI double that scored Max Williams. Two hitters later, designated hitter Will King hit a base rule double to bring Ewell to the plate.
EKU continued their offensive drive into the second period as outfielder Ron Franklin Jr. scored from third after a denial was called before Ewell unleashed a two-run blast above the batter's eye in center field to give the Colonels a 5-1 lead.
The Knights started to rally in the top of the fourth. After catcher Gabe Bratetic sent a home run over the left field wall, a fielder's pick and an RBI brace made it 5-4 before Logan Thomason tossed Colin Bertsch to the plate to end the game. handle. Bellarmine found another offensive rhythm in the top of the seventh when Peyton Back threw a grand slam to highlight a six-run inning as the Knights took a 10-5 lead.
The Colonels responded in the bottom of the seventh by scoring eight runs on six hits. After Max Williams started the inning with a first walk, Ewell hit another RBI double before a pair of RBI singles from Thomason and King made it 10-7. Four batters later, catcher Michael Goehrig bounced an RBI double over the left field fence to tie the game 10-10. The home side would score three more points to take a 13-10 lead going into the eighth.
Davis Crane hit a three-run homer to tie the game at 13 in the top of the eighth. EKU responded by hitting three hits, including Charlie Ludwick's RBI single that scored King to put the Colonels ahead for good. Ewell put an arc on the series with an RBI single to right field that put Eastern Kentucky ahead 17-13.
Ewell finished the series with nine hits for 12 at bat, including four extra hits, seven RBIs and four runs scored. The outfielder is now hitting .538 against ASUN's opponents. King tied a season high with three hits on five trips and scored twice. Thomason also finished with three hits to go with two RBIs and a run scored. Goehrig went 3 for 4 with three RBIs. Williams reached base four times and scored three runs. A total of seven colonels recorded a hit Sunday.
Pack finished 2 for 4 with a grand slam, a brace, four RBIs and two runs scored for Bellarmine (3-20, 1-5 ASUN). Crane went 2 for 4 with a home run, three RBIs and two runs scored.
EKU will play Kentucky on Tuesday. The first pitch at Kentucky Proud Park is scheduled for 6:30 p.m.