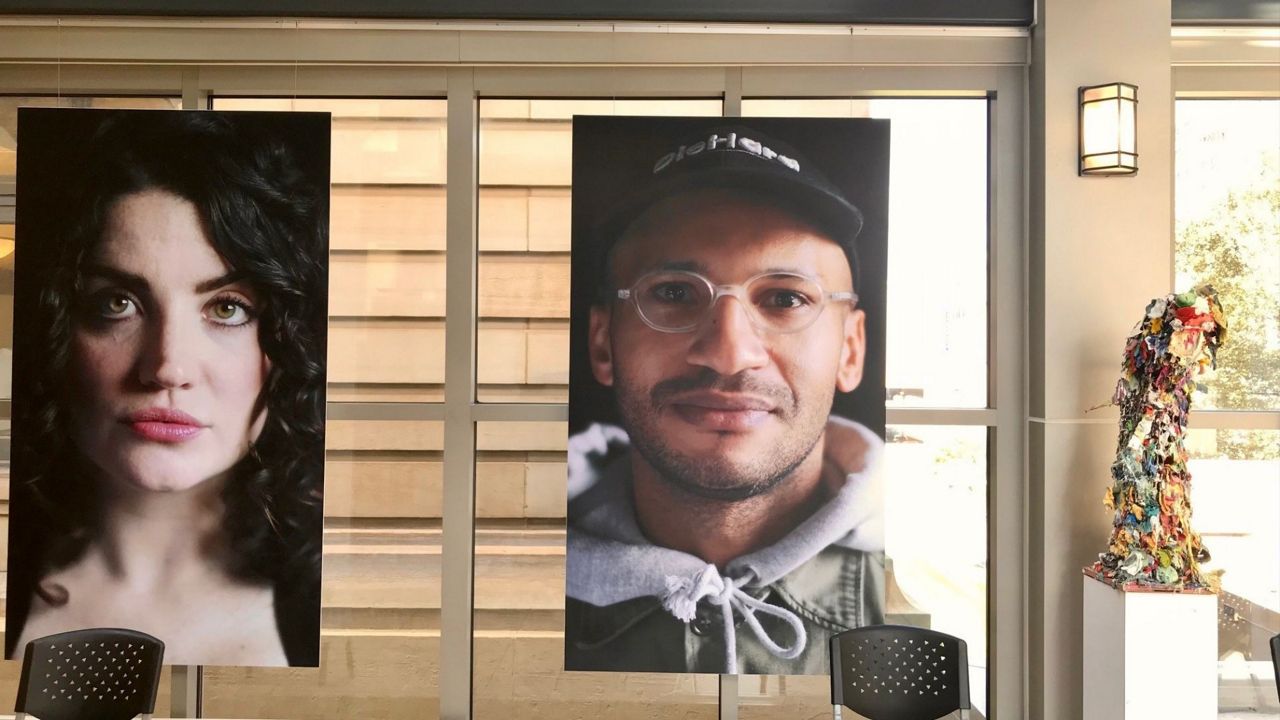 Exhibits feature a changing palette of multimedia artists
AKRON, Ohio – The city of Akron never seems to run out of works of art on display, often in surprising locations.
Until December 8, visitors walking the halls of the Summit County Courthouse will be on display at 'Faces and Feelings', an exhibit appropriate during a pandemic where people need to see each other from afar, said Lisa Mansfield, specialist. community awareness of the inheritance court. .
"Whether it was the isolation or the masks, we hadn't really seen each other for a very long time," she said. "These artists capture the joy of our feelings when they see faces."
The exhibit is curated by Curated Courthouse, a collaboration between Summit County Probate Court and Curated Storefront, a non-profit organization that has activated some of the darkest corners of downtown Akron since 2016.
"Faces and Feelings" features photographs by Laura Ruth Bidwell and paintings by Max Markwald and Care Hanson.
Bidwell is a photographer, bookmaker, and collage artist who graduated with a Bachelor of Fine Arts in Painting from Akron University. Markwald, a graduate of the Akron Meyers University School of Art, focuses on large-format oil paintings. With an MA from Bowling Green State University, Hanson's work includes acrylic on canvas, mixed media on recycled cardboard, and nature mandalas.
Art opens doors for communication and connects people, Hanson said.
"During the months of COVID-19 and quarantine, these doors asserted life," she said.
Judge Elinore Marsh Stormer was already exhibiting local artwork in the courthouse in 2019, showcasing the work of clients from the Summit County Developmental Disabilities Board, Summit Metro Parks and Community Support Services.
That same year, his project, Curated Courthouse, received $ 50,000 as part of the John S. and James L. Knight Foundation Art Challenge to continue bringing art to the public.
This award kicked off the courthouse's partnership with Curated Storefront, which was launched in 2016, also as part of a Knight Foundation Arts Challenge.
The goal of the Knight Challenges is to connect people to places and to each other in 26 Knight Cities, where the Knight family once published newspapers. In the Art Challenge, offered every few years, Knight asks the Akron community a single question, which must be answered in 150 words or less: What is your best idea for the arts in Akron?
Those who submit ideas are offered a chance to compete for a share of $ 1 million to fund their projects.
Since Curated Storefront was named a Knight Arts Challenge winner, the initiative, under the leadership of Executive Director Rick Rogers, has hosted multimedia displays in 86 Akron storefronts in 25 mostly neglected or underused buildings, illuminating windows and doors and lighting the roofs. of buildings. The windows are dressed in tableau-style shows, and multimedia art has been installed on the ceilings and outside of the buildings.
The initiative has attracted more than 100,000 visitors to downtown Akron, the organization reported. Of the empty buildings that Curated Storefront has activated, 11 have been redeveloped commercially.
Current curated showcase exhibits include "Outside the Box," which turns shipping containers into mobile art galleries and performance spaces in Akron's northern district.
"World of Wonders" is a temporary museum showcasing the work of ceramic artist Clayton Bailey. The museum runs through October 30 in downtown Akron at 156 S. Main St.
The Knight Arts Challenge returned to Akron this year, asking the Akronites for their best ideas throughout July. The winners are expected to be announced shortly.