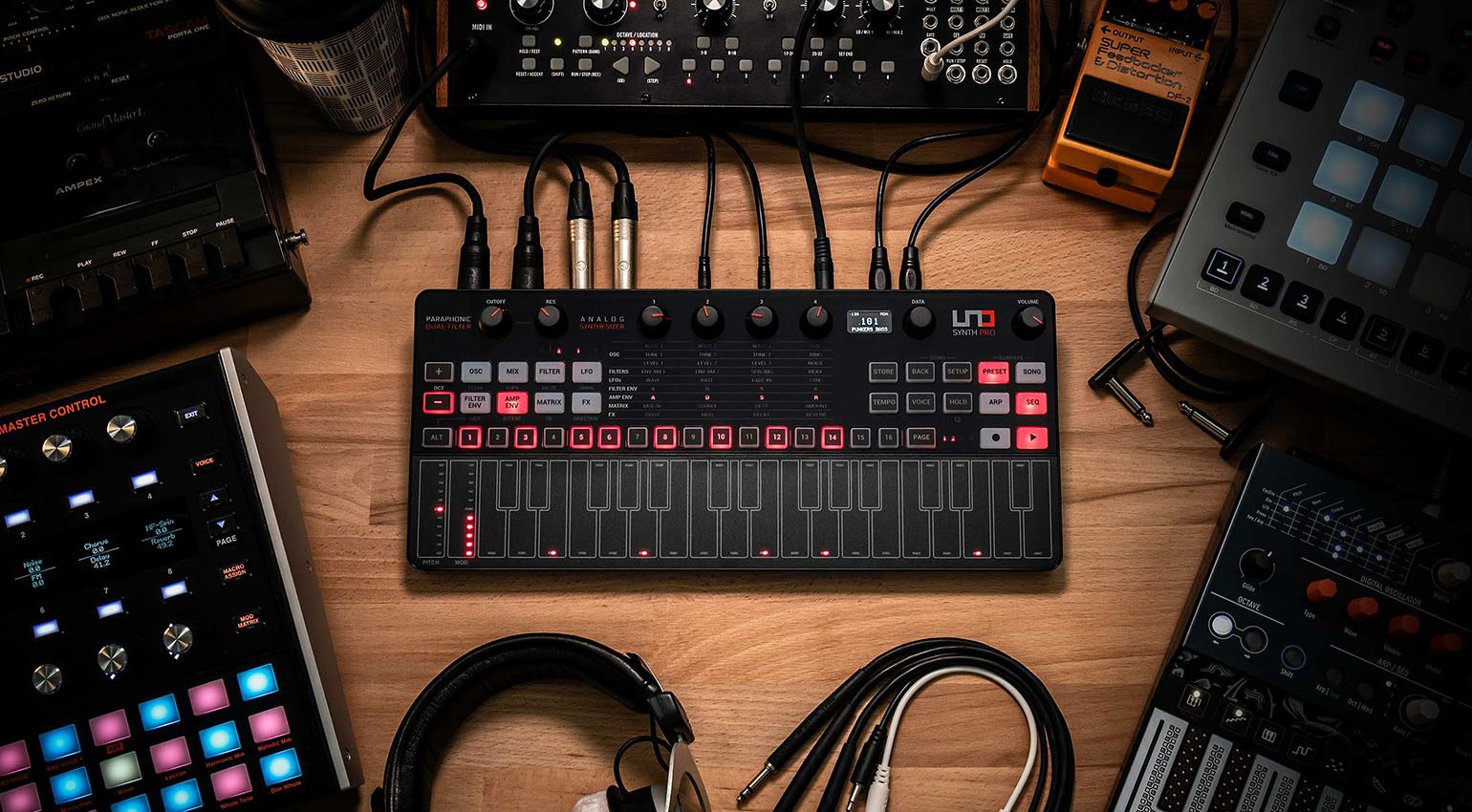 Superbooth 22: IK Multimedia UNO Synth Pro Desktop Black
IK Multimedia UNO Synth Pro Desk Black

Source: IK multimedia
Oh yes, the award-winning UNO Synth Pro Desktop synthesizer now has a bold new look. For anyone who is put off by black and white keyboards with red borders.
UNO Synth Pro Office Black
A change is as good as a rest, or so they say and IK Multimedia wants to appeal to our darker side with the boldly black version of the UNO Synth Pro desktop. It has the same inside but doesn't look as lively.
It features three discreetly dark oscillators with pulse-width modulation, hard sync and continuously variable waveform. Add a black noise oscillator, murky FM and dark ring modulator and you have the makings of a half-decent analog and paraphonic black synthesizer. It features two black state variable filters with 24 modes in series and parallel configurations to really set the exact level of tonal sculpting darkness you've been looking for. The front panel's 16-slot modulation matrix helps you route things to the right places.
In terms of excitement, there's a black-knob 64-step sequencer, 10-mode arpeggiator, and 256 user-editable presets that light up black. If you can find the back of the synth in the dark, you'll discover two CV/Gate lots, MIDI In/Out and audio input to the filters and balanced stereo and headphone outputs.
If you want to get into the dark details, there's an all-new black software editor to match.
The UNO Synth Pro Desktop Black is a small, high-performance synthesis machine and is available now for €349.99. It's unclear whether the full-size UNO Synth Pro will receive the same treatment.
Superstand
IK Multimedia is on stand Z350 – bring a torch.