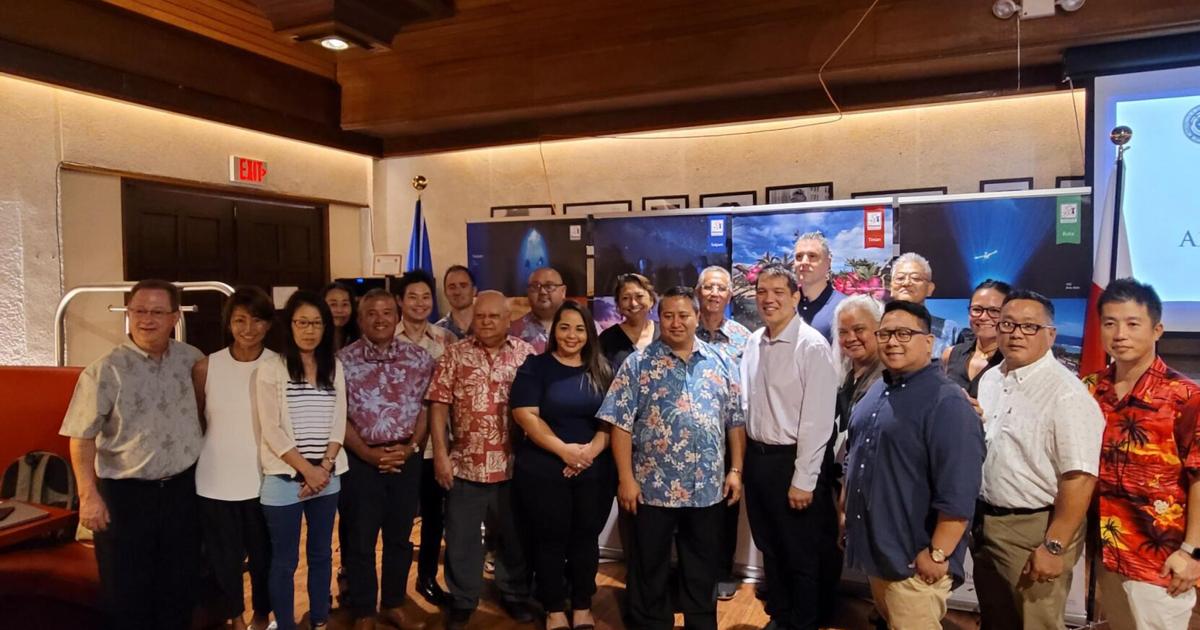 TRIP creates local economic opportunities | Multimedia
THE Tourism Recovery Investment Plan, or TRIP, has created local economic opportunity, Governor Ralph DLG said. Torres, in response to the question of why the government allocated $15 million to TRIP instead of spending the same amount on CNMI resident assistance programs.
"Rest assured that the $15 million allocated has created jobs here, opened up other hotels, restaurants, opened up opportunities for employers to bring back employees," Torres said.
The Governor, along with Mariana Visitors Authority Board Chair Viola Alepuyo, other MVA officials, Alex Sablan of the Governor's Council of Economic Advisers, Board Chair of the 'Commonwealth Port Authority Kimberlyn King-Hinds and United Airlines' General Manager of Airport Operations for Asia-Pacific Sam Shinohara, hosted a press conference on United Airlines' upcoming Japan-Saipan flight service on May 2 July at the Aqua Resort Club.
According to the governor, CNMI was the first jurisdiction to sign a travel bubble agreement with South Korea, when the rest of the world was still reeling from the effects of the Covid-19 pandemic.
"That in itself is a success for the CNMI…and we continue to maintain it [travel] bubble deal with them," Torres added, referring to South Korea.
"Tourism is our own industry… if we can't continue to attract tourists, where will we be? Give everyone $15 million, and then what? These 15 million dollars [allocation] created not only jobs, but the incentives and interest for tourists to keep coming to CNMI because we are safe. [TRIP] is what…starts and continues the success of our adventure in Japan [market]. If we don't open up the Korean market, we'll be two years behind what we're trying to do," the governor said.
"And because we now have the experience of the Korean market, now is an opportunity to bring our Japanese market back to CNMI," he added.
"Is it well spent? Absolutely! I will do it again, because it is the right thing to do, to continue to emphasize that tourism is the engine of our economy.
For her part, MVA Board Chair Viola Alepuyo said, "It's not an unreasonable criticism, but we've also heard the adage that 'either you give someone a fish , or you teach him to fish". What we're trying to do…is revive our economy. If we donate that $15 million and distribute it among community members, they can spend it only once. But if we help our economy get back on track, then we can see revenue, and we can see the government trying to provide the services it's supposed to provide, we can see businesses reopen, we can make sure that people are starting to be rehired. With the Korean market, we see this happening," Alepuyo added.
"So we hope that with the Japanese and Korean markets, we will double what the CNMI government takes from its coffers as revenue," she said.
"If all our people are going to expect is to stay home and get handouts, where are we going to be in a year… when the American Rescue Plan Act or the ARPA money runs out? Is that what we want to do with ARPA money? she added.
The $15 million allocation for Japan's travel bubble program, slated to launch Sept. 1, includes incentives for airlines, promotion and advertising of CNMI in Japan.
As for United Airlines, it will offer three weekly flights departing from Tokyo-Narita International Airport at 9:25 p.m. on Tuesday, Thursday and Sunday and arriving in Saipan a day later at 2:00 a.m. Flights from Saipan will depart Monday, Wednesday and Friday at 7am and arrive in Narita at 9:35am